War with Syria means disaster, warns Farrakhan

[Note: The Honorable Minister Louis Farrakhan continued his efforts to warn the president, the country's leaders and the public by urging Congress to reject pressure to launch military strikes against Syria after disputed charges of chemical weapons use by the Syrian government against civilians. The letter was sent to U.S. lawmakers. Source: NOI.org]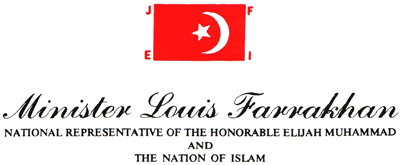 IN THE NAME OF ALLAH, THE BENEFICENT, THE MERCIFUL.
I BEAR WITNESS THAT THERE IS NO GOD BUT ALLAH AND
I BEAR WITNESS THAT MUHAMMAD IS HIS MESSENGER.
September 5, 2013
As-Salaam Alaikum.
(Peace Be Unto You)
May this letter find you, staff and family in good health and spirit in spite of prevailing circumstances.
I am writing this letter out of a deep concern for the direction that the President and our Congress may take our Nation. There exists deep divisions within the Congress over whether this action should be taken, and if so, how far should America go in punishing the Assad Regime.
The President has said that he wishes to degrade the military and its ability to defend the regime, while at the same time he is giving greater weapons and intelligence support to the rebels to use for whatever time the Congress will give to the President for such action to setup their activity to actualize the overthrow of the Assad regime.
Although President Obama says that this will be a limited surgical strike, I am deeply concerned that a larger war will materialize and America will be forced to put American soldiers in harm's way to accomplish their desired results. What is the real purpose of this intervention? What do we plan to do in the event the regime falls and the leadership in Syria falls into the hands of those who are not necessarily friends of America and another civil war takes place over who will be the political power in Syria. If Russia and others intervene a possible wider conflict could engulf the entire Middle East. Events and circumstances will manifest that our brightest minds had not considered making a messy situation even messier.
I am pleading with you on behalf of a war weary American people and the suffering peoples of the World; and the needs of the American people that will be further delayed in being satisfied, which will produce negative results on the inside of America creating the same kind of backlash and vitriol as we saw when the American people revolted against the war in Vietnam.
Please understand that there is another view from the other side that should be heard before such an important decision is made.
May Allah, The God of Peace and Justice that is rooted in truth, guide your heart and mind in a diligent search for the truth that you may make the best decision on behalf of those whom you represent.
Enclosed please find an
eBook
and
video link
to a recent broadcast that I made on this subject matter titled, "America's Errant Foreign Policy".
Best wishes for your success.
Sincerely,
The Honorable Minister Louis Farrakhan
Servant to the Lost-Found
Nation of Islam in the West
HMLF/km