From The Final Call Newspaper:
Grieving family demands answers



By William P. Muhammad | Last updated: Dec 11, 2019
ROCKFORD, Ill.—Family and friends of 35-year-old Eugene Washington, a South Side resident of Rockford, Illinois and father of four, are demanding answers from the Winnebago County Sheriff and the state's attorney's office after his sudden and mysterious death after spending nearly two months in the county jail without incident.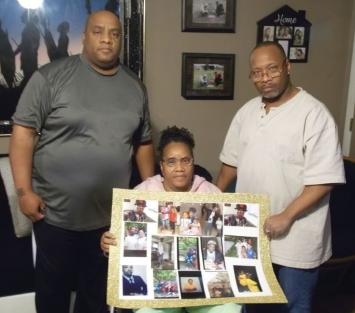 Family of Eugene Washington, from right: Eugene Lindsey, father; Bettye Jackson-Norman, grandmother and Anthony O. Ford, uncle.

"I went to see my son at 4:30 that evening at the coroner's office (from) behind the glass," said Eugene Lindsey, while explaining the trauma of receiving news that left him with more questions than answers.

"They had his body wrapped up all the way to his chin, and they had his head wrapped up, and from the way they had him positioned, I could only see parts of his face," Mr. Lindsey said. "Once they released his body to the funeral home, the same day, I immediately went to see him, and I was able to see the knots and bruises; and on the right side it was swollen from his forehead to the side of his face," the aggrieved father said.

Upon viewing what he believed to be signs of trauma to his son's body, and statements to the contrary from the coroner's office, Mr. Lindsey asked his brother to photograph additional marks and bruises he observed on Mr. Washington's body. According to his Oct. 29 telephone call with the coroner, Mr. Lindsey said the autopsy revealed no signs of heart attack, aneurysm and no signs of foul play. The toxicology report also returned negative.

"I used to be a 13-year volunteer firefighter, so I had a lot of dealings with the County of Winnebago, especially on car accidents and notifications, and they try to do notifications to the families immediately," said Anthony O. Ford, uncle of Eugene Washington. He photographed the body and questioned why authorities were late in notifying Mr. Washington's grandmother, his designated next-of-kin. Mr. Washington died Oct. 28.

"If they listed the death at 5:30 in the morning, I've never seen that long of a notification to find the family to tell them your loved one has died," he said.

Mr. Washington was in nearly daily contact with his grandmother, but Mr. Ford said she wasn't officially notified of her grandson's death until around 12:30 p.m., on Oct. 28, seven hours after officials said he died. Mr. Ford said his nephew had been held in pretrial confinement prior to his death. He was arrested in September for probation violation related to a domestic violence charge and was in the process of negotiating a plea bargain through a public defender. According to his father, the court considered Mr. Washington a flight risk and required a bond too high for him to pay. His court appointed attorney, Robert Simmons was unavailable for comment.

Mr. Ford told The Final Call his nephew expressed neither fear nor concern for his personal safety, and that his nephew had spoken to his grandmother by telephone the day before his death.

"He called me every day, sometimes twice a day," Bettye Jackson- Norman said of her grandson. "He always called to check on me. If I wasn't feeling good, he would call again to check on if I'm OK. He would want to talk to his brothers and sister, and he wanted to talk with his kids, a 13-year-old, a 10-year-old, two-years-old and a two-week-old baby," she said.

"He would be in good spirits, he would let me know when his money was kind of low so I could put money on the books, so he could continue his phone calls, so he could stay in contact with me. He was, 'I want you to be OK, Granny, so I can keep checking on you,' and that was it," Mrs. Jackson-Norman said of their final conversation.

Beyond, race, class or color, the mysterious and questionable nature of Eugene Washington's sudden and unexpected death continues to raise questions over inmate safety and supervision as Rockford's WIFR channel 23 reported another death in the Winnebago County Jail on Dec. 1, when a 26-year-old White male was reportedly found hanged in his cell.
Mr. Lindsey said he retained the Chicago-based Romanucci & Blandin Law firm to help his family find answers and to navigate the stressful process of seeking justice. Representatives of the firm were not available for comment by Final Call presstime.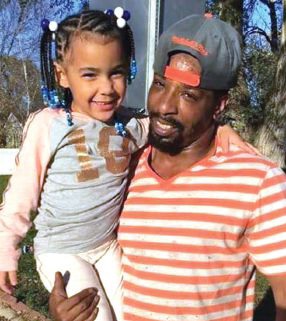 Eugene Washington with his niece, Savannah.


John Tac Brantley, a Rockford community activist and organizer who regularly addresses justice issues at county board meetings and at city hall, called for transparency in the investigation of Mr. Washington's death and said it is very important for the public to know what is going on within the walls of the Winnebago County Justice Center. He believes for justice to be served local residents must be informed of what actually happened.

Mr. Brantley said the Winnebago- Boone County Integrity Task Force was created after the 2009 police killing of Mark Anthony Barmore inside a Rockford church. The task force is a way for local law enforcement to examine how it handles fatal police involved shootings.

"The state's attorney represents the sheriff's department to the Winnebago County Board, and I'm just a voice that speaks up against injustice," Mr. Brantley said. "I'm just a vessel with some knowledge of the system and I think that those who don't know the system, don't know their rights and we don't know how many other incidents have gone on behind those walls," he added.

"Whenever there is an in-custody death or an officer-related shooting, or use of deadly force, whether or not a death occurs, the Winnebago-Boone County Integrity Task Force is activated," State's Attorney Marilyn H ite Ross told The Final Call in a telephone interview.

"With the death of Mr. Washington, since he was in the Winnebago County Jail, under the sheriff's jurisdiction, those officers are excluded from participating in the investigation (and) then I make a determination based upon what is brought to me, regarding the investigation," she stated.

The creation of the task force is designed to bolster the credibility of investigations. Atty. Hite Ross agreed with the importance of improving access to its procedures and creating a more user-friendly, on-line presence. "We do have a strong position on transparency, and I am in the process of updating our website so that it is an information hub and individuals will have access to that information readily," she said.

Atty. Hite Ross did not give a timeframe for completing the investigation into Mr. Washington's death, but said her recommendations will be based upon their findings which are pending.

"That in-custody death, which is how it is categorized, is now an open investigation," Atty. Hite Ross said. "Once the investigation is completed and brought to me for review, then I make a determination based upon what's brought to me regarding the investigation."

After failed attempts by Mr. Lindsey to secure answers regarding his son's death and the subsequent denial of his Freedom of Information Act requests, the Illinois Office of the Attorney General, in a letter dated Nov. 27, instructed the Winnebago County Sheriff to provide its office with unredacted copies of records to include audio and/or video recordings for confidential review within seven business days of the letter.

Expressing gratitude to the attorney general's office, Mr. Lindsey said his optimism is reserved until his questions are answered. "I can't be happy until I receive that Freedom of Information (disclosures)," he said. "Until I receive that, I'm going to still feel uneasy."

It is the responsibility of both the government and the governed to establish, maintain and respect basic standards of conduct, said Student Minister Yahcolyah Muhammad, local coordinator for the Nation of Islam's Rockford Study Group. Questions surrounding Mr. Washington's death should not focus on why he was confined, he argued.

Once a person is in government custody, basic standards of human decency should motivate an inquiry when a death occurs, explained Student Minister Muhammad.

"We (all) have a right to be treated humanely, professionally, respectfully, and safely when we are in the custody of the authorities," he said. "At the end of the day, what happened while he was in your custody?"
From The Final Call Newspaper:
Muslim entrepreneurs open beauty supply store in Rockford



By William P. Muhammad | Last updated: Apr 17, 2019






ROCKFORD, Ill.—Nation of Islam entrepreneurs, Henry X, his wife Keishonda X, and family business partner, Celidal Barge, recently hosted the official grand opening of the Kikifer's Beauty Supply, Salon and Conference Center, as the city's first Black-owned and operated all-in-one business outlet. The goal of the new business venture is to serve the needs of their West Side community through the manufacturing, sale, and distribution of hair and skin care products unique to the needs of the Black community.

"(For) young Black people in this city and abroad, we're showing people that regardless to what the enemy does, that there is a way to be successful in business, and that you can make a lot of money," said Henry X, CEO of the Kikifer's enterprise and brand. "You can do it legally, you can do it lawfully, you can do it ethically, you can do it morally, and it can be done in an upright manner," he said.

"You don't need to sell drugs, and you don't need to turn to the street, you just need to turn to the God that created you, and call on him (God), and then after calling on him, call on yourself."

Explaining how Rockford's Black community recovers less than one percent of the annual $400 million it spends for local goods and services, Henry X believes that through equality of opportunity, the expansion of a Black business base, and by recirculating Black people's dollars back into their own neighborhoods, will not only help to make local residents into stakeholders, but also into beneficiaries of the Honorable Elijah Muhammad's 'Do-for Self" work ethic.

Although the store began operating weeks before the official April 6 grand opening, lifetime Rockford resident, and first time shopper at Kikifer's Beauty Supply, Geneva Stewart, said she was happy to see the opening of a Black-owned business. She told The Final Call she was impressed with the customer service and familiarity of being among friends and acquaintances while visiting.





"I'm excited for a Black business to be opening, and it's new and it's something that we need in our community because there's a lot of other races that have come and make good money," Ms. Stewart said. "Why not support our Black people and build and do more stuff for the Black community?" she asked.

In addition to the goods sold by the Kikifer's Beauty Supply store is the "services side" run by Kristina Dismuke, a nail tech, whose business offers Rockford's West Side residents' quality, courtesy and excellent customer service.

She said she hoped to serve as an example for others to gain the skill sets necessary for becoming business owners themselves. Ms. Dismuke also believes that color is not a barrier to success when you work hard and care first and foremost about your community and the people in it.

"There are very few of us, so for me to be out here to maybe encourage somebody else of color to do the same thing, or to maybe get in something that's involved with something similar to what I'm doing, I think it's great," Ms. Dismuke said. "Don't let your color be a barrier, or a limit, to what you can do. Let your color give you more of an advantage to pursue your dream, to pursue what you want to do, and don't let anybody stop you and tell you that you can't do it," she said.



Aprel Prunty, a local community activist and advocate for improving the quality of life for residents of the city's West Side, agrees. "I am so happy for Brother Henry and Sister Keishonda, and I think this is a wonderful step towards uplifting the community as well as bringing the African American community together," she said.
"It's one thing to say it, and it's another thing to see it and do it, and I think Brother Henry and the Nation (of Islam) has not only said it, they did it, and they are doing what they can to make sure that others have the opportunity to do it, too."

Student Minister Yahcolyah Muhammad, the Rockford Representative of the Honorable Minister Louis Farrakhan, and local head of the Nation of Islam Rockford Study Group, said when people see words becoming deeds and talk becoming action, they are motivated and inspired to do likewise.

"For so long, many outside of our community have provided our basic needs and we've become a consumer people, but now that we are seeing that we cannot only be consumers but owners and producers, it can change the narrative, and it can change the psychology of our neighborhoods, Student Minister Yahcolyah Muhammad said.




"We have to get busy with doing the work of making our communities decent places to live, so the Honorable Elijah Muhammad's blueprint for economics and community development must be applied throughout the entire country and definitely here in Rockford," he said.


Kikifer's Beauty Supply is located at 3424 N. Main Street, Suite A, Rockford, Illinois 61103, phone: (815) 708-7082. For more information, visit: www.kikiferstore.com.
From The Final Call Newspaper:
Justice is the Joy of Freedom By The Honorable Minister Louis Farrakhan
Last updated: Dec 8, 2015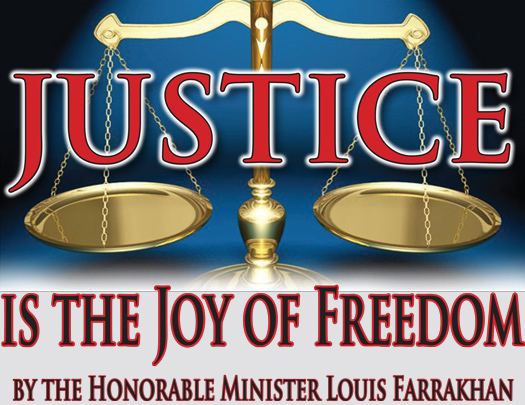 [Editor's note: The following article contains excerpts from the Honorable Minister Louis Farrakhan's address delivered on Saturday, November 20, 2010, at the Coronado Performing Arts Theatre in Rockford, Illinois. Click here to order this message in its entirety on CD, DVD and MP3.]



In the Name of Allah, The Beneficent, The Merciful.

All human beings desire to be free. In fact, every creature that Almighty God Allah created, He frees that creature from that which bounded it in its formation, and brings it forth into the light of this marvelous universe. And He has provided for each creature that He created a means to sustain and maintain its life; to reproduce its life, that that species may continue on our planet.

That same God freed every one of us from the dark confines of our mother's wombs, and brought us forth into His Light to be free, to be justified and to be equal. Every human being wants full and complete freedom, and anything that deprives us of that which God desires for us, puts itself in a position opposite God.

Ultimately every oppressed people, every enslaved people, every people not free finds the way to become free. Everyone who takes the road of The Oppressor, The Enslaver, The Exploiter is ultimately set down.

Nations rise, nations fall; empires rise, and empires fall, and we have not seen anything in the last 6,000 years that has permanence. So God, at the end of this present world, promises to set up a Kingdom on the Earth—not for some, but for all. And that Kingdom will not have any end to it because It is rooted in the same Universal Principles upon which the universe itself is founded.

The Principle of Fair Dealing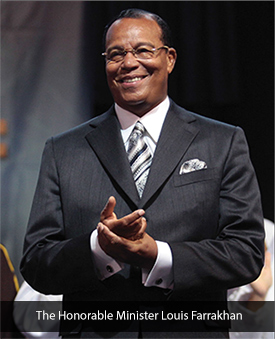 The Honorable Elijah Muhammad, our teacher, taught us that justice lies down with you when you lay down at night, and justice rises up when you wake up in the morning. Regardless to what happens in man's court of law, there is a Higher Law; a Higher Balance. Even when we think we have "cheated justice" with unjust judges, and unjust decisions—all of those decisions and judges are at the same time being judged.



No one gets out of this life without paying, regardless to what we do to create what looks like justice, though it may not be "justice" at all.

So, what is "justice"? The Honorable Elijah Muhammad taught us that Justice is The Principle of Fair Dealing. According to Webster's Dictionary, justice is "fairness, fair play, fair mindedness." Justice is "evenhandedness, impartiality, objectivity"; it's a "lack of bias, a lack of prejudice."

What a wonderful world this would be if we lived under fair dealing. The Honorable Elijah Muhammad said that Justice is The Law that distinguishes between right and wrong—that Balance is in each of us from our Creator. Nobody has to tell you that you're doing wrong, because somehow, Nature tells us.

Think about the word "weapon": The Honorable Elijah Muhammad taught us that "Justice is The Weapon that God will use in The Judgment of this present world," so justice is not just a "law that distinguishes between right and wrong." Justice is a guide to fair dealing.

But how does justice become a "weapon"? Jesus said: "God is not mocked; for whatsoever a man soweth, the same shall he also reap." Just think about that for a moment. Then the scripture teaches: "As thou hast done, so shall it be done unto thee"—now that's justice as a weapon.

Jesus again said: "Sow the wind and reap the whirlwind," so just like you sow a seed and get back so much more then what you put in, in the Day of Justice and Judgment, The Wicked will get back more based on what they've done. And the scripture teaches: "He will pluck them up and leave them neither root nor branch," so that means that the things that we do, we're going to have to give an account of it.

Sometimes if you're a good person, you can set good for your children. And sometimes when you're an evil person, you can set evil for your offspring. This is why the scripture teaches: "Prepare slaughter for the children for the iniquities of their fathers." So each of us, as we run this race called "Life," we are making it either good for ourselves and our progeny, or bad for them.

So no matter how long you live, the best way to live is to live right.

Freedom is Acting Within The Bounds of One's Nature

A "just" person is honorable. I know a lot of us are called "honorable," but are we justified in being called that? A "just" man is an upright man: He's honest. He's righteous. He or she is ethical, moral and virtuous. He or she is principled, good, decent; is straight, truthful and sincere. If we lived in a world where we were just, what would the result be in our interrelationship: husband to wife; mother and father to children; neighbor to neighbor; community to community?

"Freedom" is what we all want, but freedom doesn't mean "license." You have a nature that comes from God, and you're free to live within the bounds of your nature, so everything that God creates, it has a natural habitat, natural boundaries. It's free within the context of its nature to go to and fro, but once it gets out of its nature, it becomes destructive. An example of that is how do you take a whale, and make a whale do tricks—and then wonder why one day the whale kills the lady? You've taken it away from its nature, and you're making yourself to feel good that you can train a whale, train a lion, train a tiger. But you know, when the show gets really hot one day, and the tiger finds out,"I'm supposed to eat this!" then we're in for a rude awakening.

The Holy Qur'an teaches us that God created us to be "social" beings. None of us are made to live alone, so you start your life inside of a "family": you have siblings; brothers and sisters. There has to be some social guidance, rules and laws; that one sister or brother will not encroach on the freedom or rights of another. When you have that kind of structure in a home where there are rules, and the children obey the rules, then they don't conflict with each other; so in that house, there is peace.

And when I get out into the world, there is a way that I have to behave: I'm "free"—but I'm not free to rob you of yours! I am not free to take from you what does not belong to me. So if I will construct my life according to these righteous principles, then between man and man; man and woman, peace; between race and race, peace; between rich and poor, peace. But because we have been deprived of the freedom and the wisdom of why we should be right, and do right, most of us are wrongdoers. And yet, we expect peace.

As Muslims, we have a prayer that we say: "O Allah, I have been greatly unjust to myself…" Wow. Well, who has a chance? If one is unjust to one's self, then you are naturally going to be unjust to others. We don't live in a perfect world, so if I am unjust to myself, and unjust to a fellow traveler, then how do I get past that so that the relationship between us won't become hostile? I have to be willing to forgive and willing to admit when I'm wrong. And then, make steps to correct the wrong.

The Acquisition of Knowledge to Do For One's Self

All who live in Rockford are stakeholders in the future of this city. It is the second largest City in Illinois; a once greater city than it is today, for sure. But nevertheless, as great as the city was, it is in decline socially, politically, in jurisprudence and educationally.

What has happened to this great city? You have a current Mayor, but it didn't start with him. This has been going on for a while. This city was once a national leader in manufacturing and industry, but the focus of the local economy has been forced to change. Many of the family-owned companies that once inhabited Rockford were acquired by larger companies, and the larger companies then relocated the products being made to lower wage markets or parts of the United States, or sent them overseas.

So what happens to the people of Rockford who are blue collar workers? What happens to the people of Chicago or the people of the urban centers of America who looked to factories to give them a decent wage that they could feed their families? Now that the factories have closed or have been relocated, the people at the bottom of the socioeconomic ladder are left in the lurch. And Blacks being the most unlearned, the most unskilled, the most dependent, unfortunately are the worst off.

Education is a fundamental right of every human being. To deprive any human being of knowledge is to deprive that human being of that which grows it out of an animal state to the stage of consciousness morally. But something is happening in Rockford. What is happening? All the companies that you have, many of them are gone now. You have a lot of dilapidated former factories broke down, and the people resemble the buildings. No, this is not just Rockford, because every urban center in America and the world is like this: Human beings are broken.

God does not allow His creatures not to be able to build a home for themselves—no creature! There is no "food line" for the worm; the worm is doing fine. And the bird will come and eat the worm, and the bird is doing fine. Black bird is not in "the line," asking the White bird for food stamps. Black bird is feeding itself and its little Black birds; and White bird is doing the same.

The scripture teaches that man and woman are "the" glory of God—not "a" glory of God! So how could God look out for all of the creatures, and not man? If we are the glory of God, greater than the Sun, the Moon and the Stars, because all of this was created by God to serve human beings, the human being is in bad shape because once you have no job, you have no means of taking care of your family.

If I cannot feed myself and my family, what am I reduced to? Where is my "humanity," now? How do you tell a person "thou shall not steal," when the first law of nature is survival? In order for a human to be law abiding, they have to have a means by which they can take care of themselves and do what a human being should be able to do for themselves. Then I won't have to steal from my neighbor; I won't break into the home of the well-to-do when they are out working. I won't steal their televisions and their radios and jack-up their cars. I won't become a cold-hearted killer because the society has done what governments should do.

Government shouldn't have to do everything for the citizens, but government should create the atmosphere that the citizen can do for themselves.

Fulfilling Your Life's Purpose Justifies Your Existence

Dear people of Rockford: You know, this great city is now really suffering. And the Blacks in the city, and the Hispanics and the poor Whites: They have to find something to do, so there's an influx of drugs.

Now, one of us may have "chips", but we don't have airplanes—I mean, we might drive a car somewhere and pick up a little smoke, or something. But when you talk about so many tons of marijuana found, you know you didn't grow that! And they are so happy in Afghanistan, because the Taliban had closed down the poppy fields, but the minute America got back in, those poppies are jumping, and there's heroin everywhere now, see? Here you are, the victims of manipulative forces that are destroying your health and well being; and pitting us against each other while the rich continue to get richer at the expense of the poor and the ignorant.

If justice is the joy of freedom, then boy, it's really something to have "joy" in your life! But what will produce joy? It is the fulfillment of purpose. God didn't create you to stand on the corner! That is so beneath your purpose in life. Because you don't even know why you were born, you don't know your purpose in life, yet, everything that God created, He created it for a purpose. It is the fulfillment of your life's purpose that justifies your existence. When you don't know why you're here, you can't justify being here. So you're just "hanging."

People that have purpose for their life don't waste time! Time is what God has given to all of us, and it is how we use that time that we are required to be judged for!

We Must Become Maintainers of Justice and Truth

As a Muslim, and a self-respecting human being, I value my life. And even in your ignorance, I value yours. So when we value our lives, nobody comes in our community and thinks that they're going to take our lives, and we won't retaliate. That's just normal and natural.

I read in the scriptures that God said: "Vengeance is Mine." Because justice is a "weapon," though the judge and the jury and the prosecutor all may be in bed together—and don't think much of our lives, nor do they think much of the principle of justice—God sees the injustice that is carried on, and vengeance is with Him.

In the Qur'an, the book of scripture of the Muslims, we're commanded like this:"O you who believe, be maintainers of justice, bearers of witness for Allah even though it be against your own selves, or your parents, or near relatives, whether he be rich or poor." Justice is what we are commanded to uphold!

You can't "hate," and try to protect those you love even though they're wrong. If you love God and love Truth above it all, then you'll stand up for what is right regardless of the consequences! The religion of Islam requires us to be so upright as not to be led astray by the ties of relationships.

Truth is never to be sacrificed to any interest, but every interest must be sacrificed to The Truth.
From The Final Call Newspaper:
Church struggles to move on after tragedy



By Ashahed M. Muhammad -Asst. Editor- | Last updated: Sep 23, 2010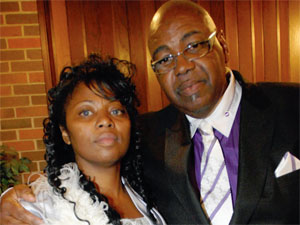 Apostle Melvin Brown and his wife Sheila. Photo: Richard B. Muhammad


ROCKFORD, Ill. (FinalCall.com) - In an exclusive interview with The Final Call, Apostle Melvin Brown described the trauma he, his family and the church family, have suffered since the fatal shooting of a young Black man in the church basement August 24, 2009.

Since the shooting incident, Kingdom Authority International Ministries has struggled to remain afloat, and the pastor said the church lost 50 percent of its day care business within a week of the incident.

Brown was critical of the Rockford police and government officials handling of the incident, which was witnessed by his wife and daughter. His wife and daughter are fighting felony contempt charges and accused of lying to authorities and Pastor Brown faces a civil lawsuit that has been filed against him by an officer involved in the shooting.

Brown lost 75 percent of the church's membership, and believes they simply walked away fearful of retribution and attention generated by this case. "They told my wife that it was just too stressful," he said.

His wife, Sheila Brown, shielded the children once police came down into the basement of the church trying to apprehend a 23-year-old Black male, Mark Anthony Barmore, who was talking to the pastor's wife and ran into the church once officers spotted him. He was a suspect in a domestic abuse case. Mr. Barmore ended up trapped in the basement, where the church runs a day care center, and tried to hide in a boiler room.

The mother and daughter say Mr. Barmore exited the boiler room with his hands up and head down, but was still shot by police officers in the presence of young children. Apostle Brown said his wife covered the children with her body as the shots rang out.

Yet his wife and 17-year-old daughter Marissa have come under attack and suffered harassment in an attempt to intimidate them since they were the only eyewitnesses to the Barmore shooting, he said. Their accounts differ dramatically from officers, who have insisted there was a struggle with the suspect for an officer's weapon before the fatal shots were fired. National civil rights leaders and local activists have called for a federal investigation and the Justice Dept. is active in the case.

Apostle Brown believes strongly that Rockford police were involved in a cover-up from the moment the shooting occurred. "I have not been satisfied because from day one they started covering up," said Apostle Brown. "First of all you take my wife without her understanding the law and treat her like a criminal instead of a witness. They took my wife and daughter and made them stay down there for almost six or seven hours when it only takes a few minutes to give your statement of what you saw. They tried to cross my wife and daughter's statements up," he said.

Apostle Brown believes those questioning his wife and daughter immediately after the shooting acted unethically and tried to skew their accounts in ways that would hide the actions of the police officers.

"They tried to put in what they wanted to put in. They really interrogated my wife and daughter while they were down there," he said.

Apostle Brown said his family has been followed by police and officers have been sitting outside the homes of some family members.

"They are trying to make my wife and daughter look like liars amongst the public to discredit them and they are trying to discredit my family, discredit my church, trying to take down my credibility," said Apostle Brown. "Every chance they can get … they are following my family. Anything they can arrest my family for—any little thing."

Steve Muhammad was the primary catalyst for bringing attention to this case and was instrumental in gaining support and resources from the Rockford area to assist and secure Apostle Brown and his family. He has provided security for the family and helped work on the ground to build support for the pastor and the call for justice in the case. Student minister Yacholyah Muhammad, area representative of the Nation of Islam and the Honorable Minister Louis Farrakhan also worked diligently, following the case closely and offering support from the Nation of Islam Study Group. Min. Farrakhan came to Rockford on Sept. 18 to call for justice and unity in the Barmore case. (See related story.)

One of the vocal supporters of Apostle Brown who has been involved from the very beginning is Dr. Levern Murphy of the New Life Movement, a Chicago-based political action group. Dr. Murphy said he viewed Mr. Barmore's body at the morgue with his own eyes, and has listened to the eyewitnesses.

"The circumstances are clear. Mark Anthony Barmore should be alive today," said Dr. Murphy. "Mark Anthony Barmore is the face of institutional police's disregard for the health, life and welfare of Black people all over this land!"

Apostle Brown said his struggles led to an epiphany: Seekers of justice and brotherhood extend beyond the boundaries of what has historically divided different religious communities. He found great support and kinship among Muslims and among Latino pastors and groups—even as Black Christian pastors walked away from him.

"I stepped out of religion. Religion told me who was my brother who was my sister," said Apostle Brown. "But when I stepped out of religion, I found out that I have brothers and sisters all over this world that I never knew. God is bigger than your box."