Extremists killed Black cop, used anti-brutality protests as a cover, charge federal prosecutors



BY BRYAN 18X CRAWFORD CONTRIBUTING WRITER @ASIATIC 18X


The death of George Floyd in the custody of Minneapolis police officers sparked weeks of unrest across America. There were protests, riots and looting from coast-to-coast, and civil disobedience.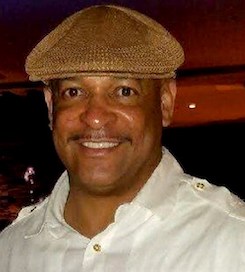 David Patrick Underwood. Photo: MGN Online


The last time America saw nationwide civil unrest of this magnitude was when word got out that the Rev. Martin Luther King Jr. had been murdered in Memphis.

But, the killing of George Floyd and the subsequent outrage was also an opportunity for far-right believers and groups to strike at the United States government.

Federal prosecutors have charged an active duty military member with killing a Black federal officer at the height of protests, injuring another federal officer and later killing a sheriff's deputy.

Air Force Staff Sergeant Steven Carrillo, 32, shot and killed 53-year-old David Patrick Underwood, a Federal Protective Service Officer who was working outside the Ronald V. Dellums Federal Building, said federal authorities. The officer and his partner, who survived the shooting, were working the same night as anti-brutality demonstrators took to Oakland streets.

Initial speculation was the May 29 killing was tied to the protests.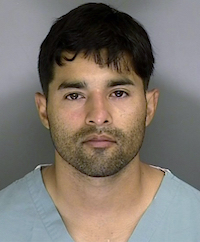 Air Force Staff Sergeant Steven Carrillo, 32, shot and killed 53-year-old David Patrick Underwood. Photo: AP/Wide World Photos

Prosecutors say Mr. Carrillo, and his partner, Robert Allen Justus Jr., who served as his getaway driver, committed the deadly acts.

Prosecutors allege both men have ties to the "Boogaloo Boys," an extremist movement, and used the protests as a cover to strike at the United States government as part of efforts to ignite civil war. They were charged June 16.

The federal government said early on that left wing groups, like Antifa, and right wing groups were looking to wreak havoc during protests. While few proven Antifa connections have surfaced, right wing groups have been discovered in the ranks of demonstrators.

"The Black Lives Matter movement has had a tremendous infusion of a generation of young White folks who have not succumbed to the lie of White supremacy. The lies wear even thinner as the economy tanks," said Omowale Clay of the New York-based December 12th Movement.

But, he added, "the fact that police know that there is an infiltration of anarchist and terrorists is much more concerning. It makes one think of the covert operations of the CIA and the National Security Agency. History has shown that in our movements, these people appear and we don't know where they come from."

Dr. Issa Muhammad, a history professor at Central Florida University told The Final Call, "The Boogaloo Group is an offshoot of the far right militia groups of the 1980s and 1990s. Many of these groups felt and believed that the United States government had become a barrier to the development of 'Native,' that is White Americans as a legitimate dominant entity in the nation."

"The Boogaloo Group—a fringe group of anti-Black and anti-government individuals are interested in creating a civil war within the United States. Boogaloo, because of the dance movie—'Breaking' and the main character Boogaloo—they adopted the name. They like Charles Manson of years earlier use a vomit mixture of ideologies and motives to weasel their way into hip hop culture to spread corruption and division for their ultimate gain. Manson called it Helter Skelter."

Charges filed in Oakland

Assistant Attorney General for National Security John C. Demers said, "Indiscriminate targeting of law enforcement officers by those motivated by violent extremism of any stripe is contrary to our nation's values and undermines the powerful message of peaceful protestors."

FBI San Francisco Special Agent in Charge John F. Bennett said, "While we cannot bring Officer Pat Underwood and Sergeant Damon Gutzwiller back, we can hold those responsible for taking them from us accountable."

Sgt. Gutzwiller was a local deputy who was killed June 6 as federal agents moved in on Mr. Carrillo, who was eventually shot and taken into custody, said prosecutors.

The killing of Off. Underwood set off an eight-day manhunt that came to a crescendo after a witness reported an abandoned white Ford van in Ben Lomond, Calif, said authorities.

"The van reportedly contained what appeared to be ammunition, firearms, and bomb-making equipment and an effort apparently was made to alter the van's appearance with spray paint and a wheel covering to disguise a missing hubcap. Nevertheless, evidence from the van, led deputies from the Santa Cruz County Sheriff's Office to Carrillo's residence in Ben Lomond. There, Carrillo allegedly opened fire on the deputies when they arrived at his property, killing one deputy and injuring a second. During the attack there was also an explosion on the property."

Federal authorities said Mr. Carrillo was shot, fled initially on foot, and then carjacked a vehicle. "The chase came to an end when, still bleeding from his hip, Carrillo was taken into custody," they said.

Recovered from Mr. Carrillo's Ben Lomond residence were an AR-15-style short-barreled rifle fitted with a binary trigger that fired one round of 9mm ammunition at the pull of the trigger and another round at the release of the trigger, said authorities.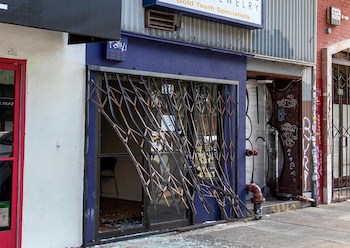 Observers say opportunists have used the pain and suffering of Blacks to push their own agendas. Many fear any political or economic windfalls will bypass Black businesses and communities heavily damaged during the George Floyd protests. Photo: MGN Online

"The rifle was fitted with a silencer that suppressed the sound of gunfire from the rifle. In addition, Carrillo appears to have used his own blood to write various phrases on the hood of the car that he carjacked. The phrases relate to an extremist ideology that promotes inciting a violent uprising through use of militias," said federal authorities.

Cell phone records tie him to Mr. Justus, who he communicated with in days leading up to the drive-by shooting in Oakland, they said.

Mr. Justus later surrendered to the FBI in San Francisco, authorities added.

The case is being prosecuted by United States Attorney for the Northern District of California David Anderson and the Oakland Branch of the Office of the United States Attorney with assistance from the National Security Division's Counterterrorism Section.

George Floyd was killed on May 25, which was Memorial Day. The following day, protests began in Minneapolis, and 48 hours later, much of the country was expressing their outrage over video showing the eight minutes and 46 seconds that former officer Derek Chauvin spent with his knee on Mr. Floyd's neck.

Mr. Carrillo is not alone in being accused of committing violent acts against law enforcement.

In South Carolina, 22-year-old Kevin Ackley was arrested and subsequently fired from his job as an EMS worker, when police said he'd thrown a bottle of water at police during protests in his area. When he was taken into custody, police allegedly found articles of clothing and other paraphernalia associated with the Boogaloo Boys movement in his home.

In Columbia, S.C., 24-year-old Joshua Bernard was arrested, and like Mr. Ackley, was charged with inciting a riot and aggravated breach of peace.

In Texas, 37-year-old Aaron Swenson was arrested and charged with making a terroristic threat against a peace officer when he went on Facebook Live and said that he planned on ambushing and murdering a police officer, and was in his truck, "hunting for red and blue lights."

In Las Vegas, three men, all with U.S. military experience, and with alleged ties to the Boogaloo Boys, were arrested. They are accused of planning to use Molotov cocktails to firebomb businesses during protests in the area.

Andrew T. Lynam Jr., 23, Stephen T. Parshall, 35, and William L. Loomis, 40, all face federal charges of conspiracy to damage and destroy by fire and explosive, and possession of unregistered firearms. Mr. Lynam is in the Army Reserves, Mr. Pashall had enlisted in the Navy, and Mr. Loomis was in the Air Force.

"White supremacists feel the government is taking away their freedoms. This is why many of these groups now advocate for state's rights," Tariq Nasheed, noted filmmaker, author and social justice advocate, told The Final Call.

"The Boogaloo Boys is just another incarnation of the alt-right. It's like a younger version of the Ku Klux Klan. And what they do is include a lot of these Latinos who identify as White, and Asians who also align themselves with Whites. They communicate on websites like 4chan, and they're planning on trying to start a second civil war."

"They walk around with Hawaiian print shirts to identify each other," explained Mr. Nasheed. "They've been organizing ambush hits on police. Some in law enforcement have been shot at by them, and there have been some who have even been killed."

"So, when you hear them talk about being anti-government, they mean they want the government to not interfere with anything they want to do; including doing harm to Black people. They want to be able to do with us, whatever they want to do," he said.

New day, same game?

Anarchists using the pain and suffering of Black people aren't new. They were on the ground in Ferguson, Mo., when people took to the streets outraged over the killing of Mike Brown, Jr., by a White police officer in 2014.

"The fact that these people had been in the service, and were planning to kill their own military and law enforcement comrades shows you what kind of mindset they have," said Anthony Shahid, a longtime community activist based in St. Louis. Ferguson is a nearby suburb and Mr. Shahid is an advisor to Mike Brown, Sr., whose son was killed. Mr. Shahid also led protests and demands for justice in the case.

"They've come to the realization that this government is no good, going all the way back to the way they slaughtered the Native Americans, to how they treated Black folks during slavery, and they know that America's foreign policies aren't right," Mr. Shahid said. "But the only problem he has is they use us, Black folks, as a shield. They throw rocks, and then they hide their hands. And the next thing you know, some brothers—or sisters—are getting the hell beat out of them by the police. Or, they're getting pepper sprayed or shot with rubber bullets, you name it. And all of that comes because of White people who come out there already mad, and trick us into thinking they're supporting our movement, when really all they're doing is making it harder for us."

Elaine Brown, former chairwoman of the Black Panther Party, who now serves as a prison activist, feels Whites who hide behind Black movements to start their so-called wars are cowards. They're not actually willing to pay the price that comes with being out front and center and expressing their revolutionary ideas and tactics, said the Bay Area activist.

"The White people who are against the government haven't had to pay a price yet," Ms. Brown told The Final Call. "They're having fun tearing down symbols, but they aren't tearing down the government. They're still trying to figure out who they should vote for. They're not really trying to tear down America; they love America. They wear a flag every day. They're not going to take a true anti-government position that we (the Black Panther Party) took."

Mainstream media has focused little attention on the Boogaloo Boys and the charges against Steven Carrillo.

Mr. Nasheed believes that's by design. "The media is going out of its way to not show all of these White people ambushing Black people, or causing police to become violent with Black people, because they know if we keep seeing it, we're going to start retaliating. That's why they're trying to downplay this story, and others," he argued.

Despite any outside agitators, infiltrators or extremist groups, demonstrations calling for justice for Black men and women brutalized, and oftentimes murdered by police, must not stop, said Ms. Brown.

"If you quote me on anything, quote me on the fact that we have to keep soldiering on," she said, adding, "Whatever the setbacks are, we have to fight on. You have to know who the enemy is."

Steven Carrillo is currently facing 19 charges, some of which include murder, six charges of attempted murder, assault on a firefighter, and two counts of attempted carjacking.

His attorney, Jeffrey Stotter told the media Mr. Carrillo suffered a traumatic brain injury in 2009 and has been scarred over his wife committing suicide. If convicted on the federal counts alone, Mr. Carrillo could be put to death. And he faces a maximum of up to 20 years in prison on the attempted murder charge. His alleged accomplice faces similar charges and penalties.

(Final Call staff and Nisa Islam Muhammad contributed to this report.)